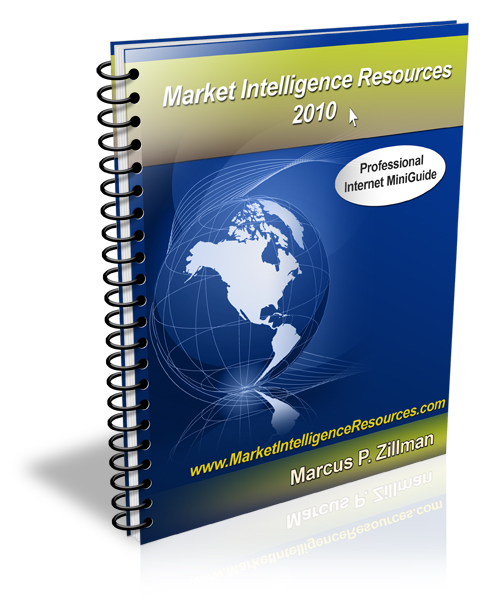 This 193 page Professional Internet MiniGuide by
Marcus P. Zillman, M.S., A.M.H.A.
brings you links and sources for
market intelligence
. WikiPedia defines Market Intelligence as: "Market Intelligence (MI) – information relevant to a company's markets, gathered and analyzed specifically for the purpose of accurate and confident decision making in determining market opportunity, market penetration strategy, and new market development metrics."
Market Intelligence Resources 2010
Professional Internet MiniGuide has all its links and sources listed alphabetically and broken down into the following categories that address the many facets of market intelligence for today's entrepreneur, professional and/or investor:
Introduction
Subject Tracer Information Blogs
Author Information and Sources
Research
Reference Sources
Selected Search Engines
Selected Directories & Databases
Competitive Intelligence Resources
Business Intelligence Resources
Research Tools
Click
here
for flyer describing
Market Intelligence Resources 2010
Market Intelligence Resources 2010 Professional Internet MiniGuide ( 193 pages ) digital copyby contacting Marcus P. Zillman in the contact section of the Zillman.us website.